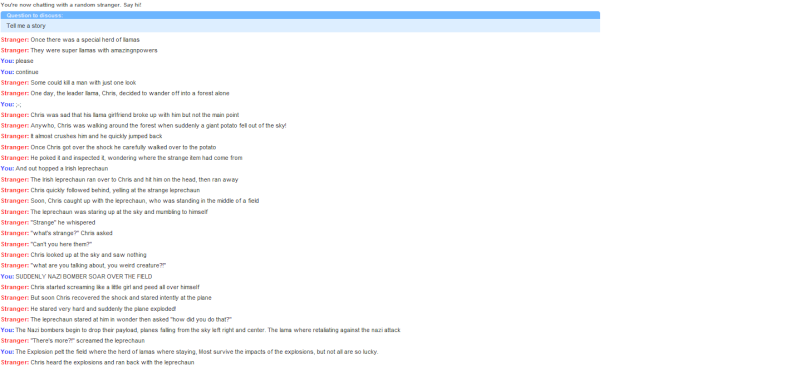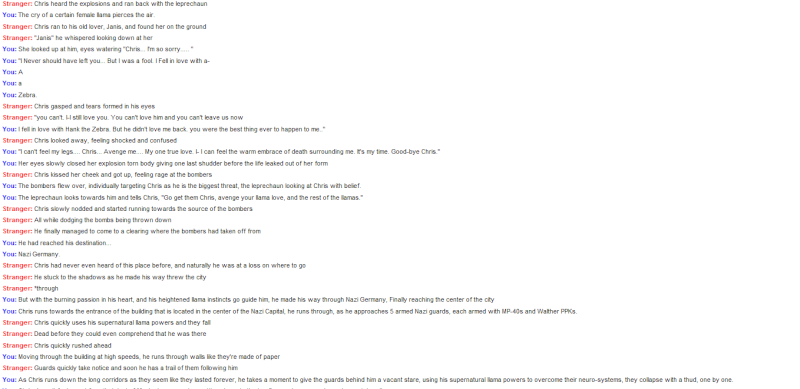 A story written by myself, Ellis, and a llama loving stranger. He left before we could end it. ;-;7
You're now chatting with a random stranger. Say hi!
Question to discuss:
Tell me a story
Stranger: Once there was a special herd of llamas
Stranger: They were super llamas with amazingnpowers
You: please
You: continue
Stranger: Some could kill a man with just one look
Stranger: One day, the leader llama, Chris, decided to wander off into a forest alone
You: ;-;
Stranger: Chris was sad that his llama girlfriend broke up with him but not the main point
Stranger: Anywho, Chris was walking around the forest when suddenly a giant potato fell out of the sky!
Stranger: It almost crushes him and he quickly jumped back
Stranger: Once Chris got over the shock he carefully walked over to the potato
Stranger: He poked it and inspected it, wondering where the strange item had come from
You: And out hopped a Irish leprechaun
Stranger: The Irish leprechaun ran over to Chris and hit him on the head, then ran away
Stranger: Chris quickly followed behind, yelling at the strange leprechaun
Stranger: Soon, Chris caught up with the leprechaun, who was standing in the middle of a field
Stranger: The leprechaun was staring up at the sky and mumbling to himself
Stranger: "Strange" he whispered
Stranger: "what's strange?" Chris asked
Stranger: "Can't you here them?"
Stranger: Chris looked up at the sky and saw nothing
Stranger: "what are you talking about, you weird creature?!"
You: SUDDENLY NAZI BOMBER SOAR OVER THE FIELD
Stranger: Chris started screaming like a little girl and peed all over himself
Stranger: But soon Chris recovered the shock and stared intently at the plane
Stranger: He stared very hard and suddenly the plane exploded!
Stranger: The leprechaun stared at him in wonder then asked "how did you do that?"
You: The Nazi bombers begin to drop their payload, planes falling from the sky left right and center. The lama where retaliating against the nazi attack
Stranger: "There's more?!" screamed the leprechaun
You: The Explosion pelt the field where the herd of lamas where staying, Most survive the impacts of the explosions, but not all are so lucky.
Stranger: Chris heard the explosions and ran back with the leprechaun
You: The cry of a certain female llama pierces the air.
Stranger: Chris ran to his old lover, Janis, and found her on the ground
Stranger: "Janis" he whispered looking down at her
You: She looked up at him, eyes watering "Chris... I'm so sorry..... "
You: "I Never should have left you... But I was a fool. I Fell in love with a-
You: A
You: a
You: Zebra.
Stranger: Chris gasped and tears formed in his eyes
Stranger: "you can't. I-I still love you. You can't love him and you can't leave us now
You: I fell in love with Hank the Zebra. But he didn't love me back. you were the best thing ever to happen to me.."
Stranger: Chris looked away, feeling shocked and confused
You: "I can't feel my legs.... Chris... Avenge me.... My one true love. I- I can feel the warm embrace of death surrounding me. It's my time. Good-bye Chris."
You: Her eyes slowly closed her explosion torn body giving one last shudder before the life leaked out of her form
Stranger: Chris kissed her cheek and got up, feeling rage at the bombers
You: The bombers flew over, individually targeting Chris as he is the biggest threat, the leprechaun looking at Chris with belief.
You: The leprechaun looks towards him and tells Chris, "Go get them Chris, avenge your llama love, and the rest of the llamas."
Stranger: Chris slowly nodded and started running towards the source of the bombers
Stranger: All while dodging the bombs being thrown down
Stranger: He finally managed to come to a clearing where the bombers had taken off from
You: He had reached his destination...
You: Nazi Germany.
Stranger: Chris had never even heard of this place before, and naturally he was at a loss on where to go
Stranger: He stuck to the shadows as he made his way threw the city
Stranger: *through
You: But with the burning passion in his heart, and his heightened llama instincts go guide him, he made his way through Nazi Germany, Finally reaching the center of the city
You: Chris runs towards the entrance of the building that is located in the center of the Nazi Capital, he runs through, as he approaches 5 armed Nazi guards, each armed with MP-40s and Walther PPKs.
Stranger: Chris quickly uses his supernatural llama powers and they fall
Stranger: Dead before they could even comprehend that he was there
Stranger: Chris quickly rushed ahead
You: Moving through the building at high speeds, he runs through walls like they're made of paper
Stranger: Guards quickly take notice and soon he has a trail of them following him
You: As Chris runs down the long corridors as they seem like they lasted forever, he takes a moment to give the guards behind him a vacant stare, using his supernatural llama powers to overcome their neuro-systems, they collapse with a thud, one by one.
You: Chris doesn't feel regret from their lost of life, he keeps moving, getting closer to the top floor as he approaches a large stairwell.
You: Suddenly, The Stair case explodes into shrapnel, a high explosive shell from the attacking allied forces blasting into the super structure of the building
You: With a look of Pure rage, the hair on Chris's body rise, along with small rubble on the ground
You: At a slow rate, Chris rises into the air,
You: His fur rippling in a unseen gale of fury...
Stranger: The rubble starts revolving around Chris, gaining speed
god dammit, I edited the post earlier with this, I don't now why it didn't save
Last edited by Krazzykidd on Wed Sep 05, 2012 10:13 pm; edited 1 time in total