The story of Beglan Ryan, leading to the events of his Murder, Currently ICly unsolved and is assumed to be killed by a Metrocop, but we all know that's bullshit anyway.
Remember to put the music on as it adds a mood to the diary if you are reading it.
---------------------------------------------------------------------------------------------------------------------
Hello there, this is my Diary, if you have found it I am probably dead. I began writing this Diary in the Year 2016, this is my story, I will try to write in this as oftenly as possible, list my personal opinions about people, survival technics, and so on.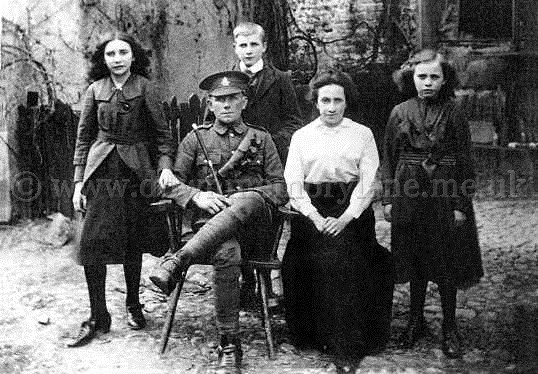 From left to right:
My daughter Ashling, A sweet and Intelligent girl, she was killed by the Combine. She was third-teen.
Me Beglan Ryan: In this picture I was serving the armed forces, about eight years before the Combine had invaded. I was 31 in this picture.
My son, Aidan, a kind boy with a large heart, I do not know what has happened to him, I assume he is still alive. He was Seven-teen in this picture, he absolutely loved music.
My wife, Bree, I've known her for all my life, she committed suicide three years after the combine occupation. I wish she was still here.
Elisabeth, my youngest daughter, during the combine invasion I saw her ran off in the woods with her Brother Aidan, which makes me thing they are still alive to this day, maybe I will see them again. She was nine and was born in England, so we decided not to give her an Irish name.
Page 1
------------------------------------------------------------------
Page 2
Entry One: 1-23-2016
I had recently acquired an empty book, I will post logs of my life in this, I am currently in City 72. A far ways away from home. City 72, Berlin, Germany. The air is surprisingly clean, and it is -32 degrees outside. I am inside my apartment right now as I am writing this, I am all alone, and there isn't much to write about. I think I will start writing in this one more interesting things begin to happen. One note though, I had a nightmare last night, a rather particular one about me dying from being betrayed. I thought this was weird as the people in the dream had no faces, and there was a dead body on the ground. Anyhow, it is currently 6:00 pm, time to get my rations.
Entry Two 8-12-2016
Been a while since I've written in this, but I'm not sure what to say right now, I'm being relocated to another city, City Eleven I believe its called. I see it in the distance right now, it looks nothing like Berlin, it looks worst. They took me out of Berlin for some reason. My apartment had gotten raided and my damn roommate decided to have a couple of items that were illegal. I had no idea what they were, later I found out that they were ammo boxes. My roommate was executed later that day, I was set free thankfully. What was he thinking storing it in plain sight. We are getting closer to the city now, a voice said we are 30 minutes away, it doesn't look like the most inviting place. The citidel has spotlights swooping around everywhere, as if it is watching out every move, like a breathing being. I will write into this again once I get my apartment.
Entry 3 9-1-2016
It took them a month to give me an actual apartment, for now I was actually just living in the place where they keep people and assign them. one month it took for them. I am so angry right now, but atleast I have an apartment. My roommate is rather nice, hopefully she won't be like the last one. It is raining quite hard outside right now. The MPF units though, they just stand outside like its nothing, its a rather scary thought one might say. Standing out in the rain for 6 hours, one of them hasn't even moved a muscle. I met a strange man today, by the of Hans Drescher, said he just game from Japan. His recommendation was to avoid it at all cost, said it was a hell hole. I believed him, and he told me of what the MPF units did there. It horrified me, maybe I will see this man another day as we spent a good two hours talking.
Entry 4 11-11-2016
I thought it would be funny to write on this day, It is currently snowing outside. I have just received my ration, apparently they like to starve you here for a long time. I had to wait two weeks for my ration, at Germany you just had to wait three or four days. What is up with this place. Then again in Germany we did have to work in a factory. Anyhow more information on the snow, even when it snows here, it is still ugly and horrible. Why just 10 minutes ago one of the Citadels spotlights passed through the streets and when I looked at it my eyes started to burn. The bloody thing is fucking bright, can't imagine what they use to power the damn thing.
Entry 5 12-12-2016
Today is my birthday, I am turning thirty-nine. One more year until I am fourty. Age never stops, I didn't get anything for my birthday except for my 10th beating this week by the same unit. This unit hates me a lot, he even took away some of my credits. I can't do anything about it besides avoiding this unit. He fucking pisses me off so much, he even stands outside for six ours in the snow, watching my window. If I even so much as look outside it he comes up to my apartment and then beats me. What is his problem.
I think I'll stop writing in my Diary for a while anyway. I usually keep the thing in my pocket at all times and look at my family. How I miss them so, I never talk about them though.
Entry 6 5-12-2017
I was relocated right outside of the canals, a pleasant view, if you like watching people get shot at every fucking day. I watched one guy get bought up to the block and get beaten publicly, then they just left him there. I went outside to check on him, hes in my apartment right now. Guess they were too lazy to kill him and decided to beat the living shit out of him, because he is literally knocked out cold.
Alright, its been one hour and an MPF officer came by and picked up this guy, he then gives me one hundred tokens. I honestly have no idea why he did. The combine are absolutely fucking random sometimes. I just hate them!
Infact, I have been planning to escape, my plan is to get the coast. I will write once I get there.
Entry 7 8-12-2017
I have been living in the coast for a while now. Got shot at dodge gun fire on my way too it. My military experience is what kept me alive, however I have never really told anyone of it. Anyhow I have been assigned the job of getting citizens from city 11's Canals to here. It is usually a weeks journey, and I bring a group of thirty people with me most of the time. However sometimes these people die from their own actions. Like this one guy had a brilliant idea to rob a train and go to the coast from there. I said go ahead, if you make it and he ran off and got shot 42 times. Couldn't even reconize the guy anymore, but he was fucking stupid for trying such a dumbstruck act.
Entry 8 12-10-2017
After several months of carting refugees back and fourth, they decided to change my job to a supply runner. In a week I begin carting supplies back and fourth to the canals. The reason why I have week off is well because my birthday is in two days. Everyone is actually rather excited for it. I have a good friend named Klaus Grober there, said he also came from Japan with his cousin Hans Drescher. What dumb luck, made me laugh when I first met him and I was telling him the story of how I met his brother. We have been good friends ever since.
Entry 9 12-12-2017
Well today is my birthday, and the first enjoyable one I have had in ten years. The whole base surprised me with an actual cake. I couldn't believe my eyes when I saw it! It was quite a large cake as well. they even found fourty candles and stuck em right into the cake. I was at total shock, guess being the guy who rescues everyone pays off. They even got me a new weapon for my birthday. It was a very beautiful MP7, it had a laserpointer, flashlight, eletronic scope on it. It was an amazing gun. It was also quite modified and had an extremely low recoil and high accuracy Anyhow I begin my job of carting of supplies to the canals in five days. Might as well enjoy my vacation off.
Entry 10 3-3-2018
Been a while, anyhow ever since I've been carting off supplies to the canals its been a lot easier than guiding people through a fourty mile long sewer. I even met a guy named Alan, he wouldn't tell me his last name but he said he was pretty famous in the resistance, on my trip back I'll ask some people about him.
Entry 11 3-5-2018
I found out the guys full name Alan White, and I have been seeing him more often now. He is somewhat famous in the resistance, nothing much to write about today other than the fact that Antlion season is starting up again, which is going to make my supply runs hell.
Entry 12 8-29-2018
I just lost my fucking gun. My most precious thing in the world right now. I set down my gun for a moment and then I move foward to check something, then BAM the sewer's roof just falls down, and my gun is now buried over several tons of rubble. I am now trapped in the Canals, worst of all most of my gear was in my backpack, which is ALSO buried under several tons of rubble. I am fucking pissed off now that I have to live in a hell hole now. I must continue moving foward, and survive there until we can get out.
Entry 13 9-15-2018
I met a black man by the name of Darnell, he is rather nice I would think. Just think he likes to pretend to be a badass. He gets scared though, like today one of the outpost got shelled. Several hours later after stomping on poison headcrabs I met Alan White again, and said he also got trapped in the canals. I asked him if he had a spare weapon and he gave me an MP7 and some ammo. Meanwhile Darnell got a plank which made him quite mad. We had set up a new base in the corner of the canals, From there I met Hudson, a good man. I have also developed a painkiller addiction, one might say... Its, its nothing serious, I'm trying to quit though.
Entry 14 9-17-2018
I found a creepy picture laying around, looks to be of some sort of city. Possibly somewhere in America. I heard that America was almost completely destroyed during the seven hour war. This is probally what it looks like now.
Also note to self, find more painkillers, I've ran out. Hudson has been telling me to quit them though, but I just can't stop taking them for some reason.
Entry 15 9-20-2018
We've heard rumors that the MPF units are going to attack today. We have about 20 people in 40 square foot room with a hallway. This is very bad and only 6 of us are actually armed. The rest have melee weapons of some sort.
One hour later, the combine are here, I can't take too long, I've gotta defend the base. Oh shit, they are fucking armed heavily, going to be one hell of a gun fight, maybe it won't be as bad as in the military.
Alright, we've held off the MPF for now. Two dumbfuck black guys decided to inject themselves with adrenaline and banzai charge at them, they got shot about 10 times but they killed at least three of the squad, while the squad fell back we just mowed them down. We captured one, but the two black guys brutally murdered him. It was terrifying, after they killed him they just dropped dead after being filled with lead. The dumbasses.
Entry 16
9-20-2018
10:00 pm. We have a rouge CP with us, he plans on driving the train out of here, Urgph, we are leaving now. I will write back as soon as we get onto the train.
Made sure I'm settled into the train, the CP says we've got a two hour train drive ahead of us, at least it's under the radar for now. Hudson, Darnell, and I have decided to take charge for now, but Alan was heavily wounded while in the gun fight, a pretty bad shot to the chest and arm. We don't think he will survive, let alone say another word.
Entry 16
9-21-2018
We have arrived at the base called Fort Foxtrot, Alan's work that he found and pretty much improved it vastly. Its a specature place, although Darnell keeps calling me Irish for some fucking reason, its pretty annoying, but then again I annoy the shit out of him too. Its kind of a pay off and rather entertaining to both of us. That day I also finally found my self a resistance uniform, off a dead body, Darnell got his too, along with Rochen, he has a freaking Ar2! Too bad its I.D locked, if not that thing would be bloody helpful, I've been modifying my suit all day, this suit will stay on me, until I die, mark my words. I even spray painted my name onto the back of it in nice big letters, Beglan. Just in case...
Entry 17
9-25-2018
Alright, this dumbfuck named George comes along and all of a sudden takes command of the base. This guy is your general fucking douchebag and everyone at the base hates him. He has this brilliant fucking idea to attack the combine outpost with full on firepower, I do not agree with this plan one bit. I have a plan on my own which is digging the tunnel. However its not the best idea though, its worth a try though.
Entry 18
9-26-2018
Alright, My plan failed. Big whoop. Got about 20 feet in when I realized that its a 50 mile long tunnel. Anyhow everyone is being fucking stupid and worshipping the very ground George walks on, except for Hudson, Darnell, and I. I even found some Cyanide today and told George about it, his voice got really fucking quiet after that. I found it funny, so I kept on mentioning the Cyanide around him to make him paranoid. I think Darnell got a few kicks about it too. We also found a crazy old man named Mich and set up a bomb for a distraction. This plan was much better, but still fucking stupid though in my opinion.
I heard some gunshots and I'm going out. Wish my self luck. Going to find the source of it.
Jesus fucking christ, I'm writing this right now quickly into my diary, we captured a CP and we are interigating him right now. George is saying some pretty fucking stupid things though, oh his friend just came into the room, guess I'll stop writing, don't want them to notice.
On the book there is two bullet holes. None of the bullet holes cover any text, and several pages of the book have blood splatter. At the back of the book has a picture of Darnell, Hudson, Rochel, and Beglan. It is signed, Happy Days.
Last edited by H.Drescher on Sun Jan 29, 2012 8:46 pm; edited 2 times in total